Table Rock Lake is Always in Season



Spring comes alive with the blooming of rebuds, dogwoods and other flowering trees, plants and bushes. Our visitors are drawn to the beauty and serenity of this time of year. The temperature is such, that you undoubtedly will catch an Ozark "Spring Fever".

Summer is lush green, with more trees than you can imagine. Each summer, the warmer temerature draws many visitors to our beautiful lake. With hundreds of miles of shoreline it never seems crowded and there is always a quiet cove for your special kind of enjoyment.

Fall showcases vivid colors on the bluffs around Table Rock Lake.Our ash and maple trees resemble pillars of fire among the multi-colored trees of gold and bronze, set off by the evergreens. An annual must for many is a "fall color" cruise, which is unquestionably spectacular, awesome and even breathtaking.

Winter is very mild, with little snow. Table Rock Lake is known as a lake that never freezes. However, occasionally Mother Nature endows the Ozarks with a spectacularly beautiful snowfall. Our crisp winters bring its own special climate and beauty. The holiday season is highlighted by fabulous, animated, drive through, lighted display, the Port of Lights.

Precipitation is largely in the form of rain. The average total rainfall per year is 40 inches. The average snowfall is 10.1 inches. The rains usually fall in the spring and fall. The dry season usually sets in about the latter part of June or the first part of July and lasts forty to sixty days. Snowfalls are usually 1-4 inches and usually melts in a day or two.

Average Temperqature

DAY NIGHT

| | | |
| --- | --- | --- |
| January | 42 F | 23 F |
| February | 51 F | 31 F |
| March | 57 F | 32 F |
| April | 72 F | 48 F |
| May | 77 F | 53 F |
| June | 85 F | 62 F |
| July | 90 F | 66 F |
| August | 89 F | 65 F |
| September | 80 F | 57 F |
| October | 71 F | 46 F |
| November | 56 F | 34 F |
| December | 46 F | 27 F |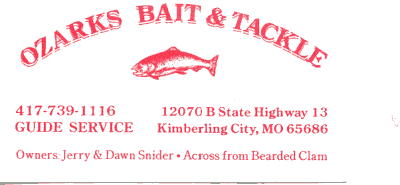 Jerry R. Snider, Professional Guide

Table Rock, Taneycomo

Full or Half days, Licensed/Insured

Rt. 4, 2945 C

Reeds Spring, MO 65737

417-338-4559

Notice of Copyright
All rights reserved. Unless one is a reviewer quoting passages for the purpose of a review, the contents of this web site may not be reproduced in any form, in whole or in part, without expressed written consent from the owner/publisher. c 2006 Ozarks Hunting & Fishing